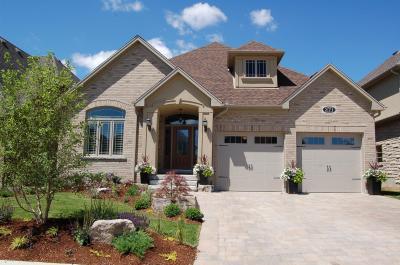 The dream to build beautiful custom homes began in 1988 and since then PK Custom Homes, a small family business continues to grow and improve techniques and styles that appeal to all homeowners. For over 30 years it has been our mission to work with you, the customer, to build the home that is your dream. We know that building a new home is without a doubt the biggest investment most people make in their life. Our commitment to you is that we will work with you to deliver a quality home with lasting value.
The home building process should be exciting and enjoyable. We are proud of our friendly, one on one hands-on approach to new home construction and we are truly passionate about what we do. We work directly with our clients to ensure their satisfaction from plan selection to final details on move in day. We build homes of every shape, size and budget in the Listowel community with a trusted and skilled team, using only top suppliers and trades to achieve a beautiful home from the inside out. We aim to exceed the highest standards for energy efficiency and provide beautiful home designs that are functional and well built.


Overall, we just simply love building homes. In our 30+ years in business we have learned a lot along the way, but we continue to learn, grow and improve in every way we can. Our experience makes our homes better, and built to last. We are PK Custom Homes and we are built differently.
Please contact us to find out more information as to how we can start building your dream today!
BUILDING QUALITY CUSTOM HOMES SINCE 1988